GALLOP ENTERTAINMENT
Valerie Jeanne Stichweh
This beautiful artist started her singing career at the tender age of three and has simply been astounding listeners with her soulful, powerful voice ever since. She has exhibited her musical gifts in live radio shows, and recording projects, as well as radio and television commercials. Valerie had the opportunity to sing on talent shows such as the X Factor in the San Francisco rounds, Nashville's Charlie Daniel's Talent Round up, and took first place in the Spokane Frog Fm Country music vocalist contest. Yet, this doesn't mean she's a one trick pony.
This well-rounded artist can belt out Rock, Soul and Pop as well. Valerie also performs in musical theatre. She had the once in a lifetime experience to work with Oscar and Academy Award winning actress and legend Patty Duke in the 2013 Traditions Of Christmas musical. Valerie has performed in many production shows in Las Vegas, Phoenix, Seattle and Northwest areas. As a true entertainer, she enjoyed being a featured performer at Silverwood Theme Park (where she has been a very popular entertainment act at this amusement park). She has graced billboards and is a first to be called to perform the National Anthem for popular sporting events such as Gonzaga Men's Basketball, Spokane Indians, and Tough Enough To Wear Pink Night for the Spokane County Fair's PRCA Rodeo to name a few.
Valerie has additionally opened up for major named acts such Freddie Fender, Sherrie Austin, Big House, and Doug Supernaw. She performs at many private parties entertaining guest like Wayne Newton and Jack Hannah. Valerie also enjoys singing original music as well. She has worked with amazing songwriters like Bill Byrne and Michelle McCammond. She will be one of the featured vocalists on an upcoming album called "Together." This album will help the homeless as 100% of the proceeds will go to the Union Gospel Mission, and considered to be an honored for Valerie in being involved with such a special project. She additionally has been a headliner performing a tribute to vocal giant Celine Dion in a Vegas style production called Showstoppers Live, as well as performed a tribute as Carrie Underwood in Las Vegas.
Life all changed in the winter of 2014. She was diagnosed with Stage (3) Breast Cancer. Valerie had a very aggressive form due to her being Her 2 positive. Fighting for her life these last couple of years for the last year and a half, Val is currently in remission. Valerie's life goal now is to be a voice for woman fighting this horrible disease. She has been performing at events like: Laugh For The Cure; Because There Is Hope; Think Pink Fashion Show; Survivor's Gala for Susan G. Komen; performed at the opening of Race For The Cure, has been a special guest speaker for The Great Gatsby Fundraiser to benefit Coeur d'Alene Summer Theatre Camp, and is a well noted local favorite in The Festival of Trees Fashion Show. We are honored (and proud), to say that Valerie is a Gallop veteran in gracing our stage with her incredible talent for the past (16) years, making lasting memories for our children and their families. She has an unbelievably huge voice that will have you telling everyone you know about the beautiful, talented strong pink warrior. She is grateful to God to be alive and has a new song in her heart.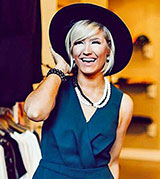 Courtney Biggs
Since the young age of seven, Courtney's passion for the performing arts was strong. Writing and recording songs is what she and her dad, Mike Biggs did for enjoyment in a little home-made recording studio. By ten years of age, her passion took her to one of the largest entertainment capitols in the world, Los Angeles. For the next four years Courtney acted in three films, numerous commercials, and co-wrote two songs for the films' soundtracks with actress/singer Ariel Winter (Modern Family).
Courtney returned to her home in 2010 to finish her high school career and be with friends and family. She started her own YouTube channel where she along with her dad Mike, recorded songs (both original and covers). Courtney had the pleasure of opening for country singer Keith Anderson and James Otto in both 2015 and 2016. She has performed live in multiple locations throughout Washington, Idaho, Oregon, and Nashville, Tennessee. Courtney has additionally been a featured artist on Indie Air Radio. She released the song, "You Can Be Free" written by Michelle McCammond, for the 'Wounded Warrior Project' supporting and helping our vets. From a young age, Courtney has been an avid believer in the power of music and its strong connection in bringing people together for amazing causes!
The upcoming Gallop Annual Charity Auction marks Courtney's 3rd year back to perform at the 'Opening Ceremony Kick-Off' ... which benefits the Ronald McDonald House Charities of Spokane whom provide temporary lodging, comfort and support for children accessing medical services. In continuing her appearance at this event, she and her dad hope to bring smiles of happiness and joy to everyone who will be listening.
Gallop and the Ronald McDonald House feel blessed and honored that Courtney will be back to grace our stage. You do not want to miss her performance!


Luke Yates
Get ready as renowned singing artist Luke Yates, appears this year on the Gallop stage for the Opening Ceremony! He is a Country Music recording artist born and raised in Spokane, Washington, and is one the most talented musicians in the Northwest!
With a terrific soulful voice, flawless pianist and guitar player, Luke has performed over 2000 concerts across the United States. He has performed at many venues, including opening for headlining acts such as Keith Anderson and James Otto. Luke was asked to sing the theme song (written by Michelle McCammond), "God's Fallen Angels," for the bestselling book, 'The Execution' by Sharon Cramer. The song received worldwide exposure!
Luke Yates has been a touring musician for the past (11) years and over that time, he's been in and out of studios all across the country writing, recording, producing and he is no stranger to the stage. This guy really brings it when he performs!
With everything going on in his music career, Luke still finds time to actively support great missions like the Rypien Foundation, the Northwest Autism Centre, and is no stranger to the Ronald McDonald House Charities of Spokane. He included one of our very own Ronald McDonald House children (Gabby), into his successfully released video, "Smile," written by both Luke Yates and the talented Michelle McCammond whom will also be attending the Gallop event. We are all looking forward to the release of his next single! You are not going to want to miss him!


Christy Lee
Placing in the Top-Three for the Inland Northwest's "Best Of" the gritty texture of Christy Lee's voice is one of the best you'll hear!
Coming into music later in life, Christy found a love for performing at the age of 21 when her dad picked her up and threw her onstage with a local band and said "SING"! From that moment on she was hooked and realized her passion and destiny was laid out before her in the world of music.
Born and raised in Southern California, Christy Lee's family moved up to Spokane, WA in the summer of 2008. Over the past 5 years, Christy Lee's been in and out of Nashville pursuing her music career, touring and sharing the stage with the likes of: Rascal Flatts, Randy Houser, Franky Ballard, Hunter Hayes, Bryan White and Blake Shelton, wowing audiences wherever she performs!
Having been involved with multiple charities over the past few years including: Blessing Under The Bridge, Full Circle Equine and Beyond Pink, Christy counts it a privilege to be involved with this year's Gallop auction!
Recently, Christy Lee has been working tirelessly in the studio and just finished recording her debut EP to be released soon! The future is bright for this young artist! You don't want to miss the opportunity to see her take the stage.


Mike Biggs
Mike Biggs is a musician/songwriter from Coeur d'Alene, Idaho. His mother taught him the piano at the young age of five, and in his teen years, he took up the guitar. Mike's musical abilities are influenced by some of the greater pop/commercial rock bands. He has played and toured in several local bands, until his focus changed with marriage and raising his daughter.
Mike moved his family to Los Angeles in 2006 to give his daughter an opportunity to pursue acting and singing. While in Los Angeles, he co-wrote songs that were placed in films. Mike was also a part of helping "Modern Family's" Ariel Winter, develop as a young singer.
Last year, he and his daughter opened for Nashville singers, Keith Anderson and James Otto, and traveled to Spokane, Leavenworth, Roslyn, Tri-Cities and Eugene, Oregon.
This is Mike's third year participating in the Annual Gallop Auction and is hoping to touch as many lives as he can, through music.


Michelle McCammond
Michelle McCammond has been writing and singing since she was a little girl. Her professional career started as a freshman at Eastern Washington University where she studied music/radio/television and communications.
Since that time she has had the opportunity to work with amazing writers, producers, and artists. She has written songs for film, radio, and television, and continues to enjoy writing in many different genres, including country, blues, pop, and rock. She believes strongly in paying forward, using her talent to help incharitable organizations that include children with cancer and autism, veterans, including the Wounded Warrior Project, and the homeless through Union Gospel Mission.